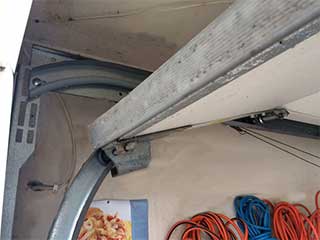 There are a lot of things that can go wrong with your garage door system, but learning how to recognize the most common issues can help you deal with the problems.
Listen For Frayed Safety Cables
These components, also known as lift cables, are responsible for lifting and lowering the door during its operation. They are very strong, but due to the inherent stress of their job, they can be susceptible to wear and tear damage and become frayed. Frayed cables make horrible scraping sounds so when it happens it can be quite easy to notice.
Routine Examination Will Help You Find Damages
Cuts, on the other hand, can usually be discovered only through close inspection. They are typically caused by imperfections of the drums, which the cables go over. A broken cable can leave the panels hanging on one side, which is why replacing these components before that happens is incredibly important. The new cable needs to be adjusted to fit your door perfectly, so this type of work should be left to the professionals.
Check For Blocked Tracks
These stationary hardware parts help to keep the door in place while it is closed and guide it during its operation. One of the most common issues that can affect them is a blockage. You'll be able to tell there's an issue because your door will start making strange grinding noises and will potentially get stuck from time to time. This could be caused by a pebble or an accumulation of dirt, dust, and grease.
Knowing When Your Tracks Are Misaligned
Misalignment between the vertical and horizontal sections of your system's track leads to poor performance and poses a risk of serious damage to the component. You'll recognize this when your door panels will start to jitter and shake during operation. Seeing as they can end up sliding off and collapsing, you'll want to contact our experts as soon as possible.
When A Spring Breaks
This one is the easiest to detect, as the sudden release of tension makes failing to notice a spring has broken impossible. You'll hear a loud bang resonating from your garage, and when you'll go to see what it was, you'll potentially find your door has slammed shut or is currently tilting to one side. Avoid trying to operate it under this condition. Springs are incredibly dangerous, and should only be handled by trained professionals.
Contact Us Today
Our experts at Garage Door Repair Fallbrook can help you with every type of problem. Be sure to call us for any related need.