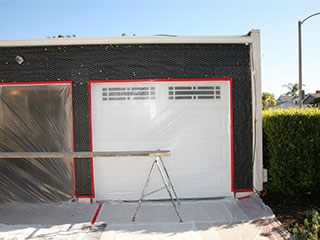 Our experts at Garage Door Repair Fallbrook, work hard to make sure our customers' garage doors work properly and efficiently for as long as they possibly can. One of the ways we make sure of that is by performing regular maintenance tests and inspections.
Checking the Door's Balance
Over time, garage doors can start to tilt, and one of the most important forms of maintenance that we perform is to make sure the panels are balanced correctly. The springs play a huge role in the operation of your door, and if their tension isn't distributed evenly, or if their condition is less than optimal, it could lead to your panels tilting, sagging, and possibly even collapsing. Our technicians have the necessary tools and the expertise to make the appropriate adjustments safely.
Examining the Opener
As they age, garage door openers will begin to fail, which can cost a lot of money in repairs, not to mention, be very frustrating and greatly inconvenient for your daily routine. We'll perform a thorough inspection of your opener and its various parts, examining everything from the motor gears to the circuit board in order to make sure nothing has gotten worn-out or fried. This includes checking the wiring for loose connections and making sure there's no potential for sparks. If we find something wrong, we'll repair it or replace the damaged component on the spot.
Ensuring The System is Safe to Use
It's imperative that your garage door will not close on something that gets in its way. This is to ensure the well-being of any children or pets, as well as to protect your car from getting damaged by the door's heavy weight. During our maintenance routine, we will make sure your opener's safety reversal mechanism works properly by testing the eye sensors and ensuring they are properly aligned. This will reduce the potential for accidents to a minimum.
Schedule an Appointment Today
If you haven't had professional maintenance performed on your garage door in a while, then it's time to give our experts at Garage Door Repair Fallbrook a call to schedule an appointment.
Couldn't find what you're looking for? We also offer:
Garage Door Tune Up Services
Oil Tempered Torsion Springs
Bent Garage Door Track Repair