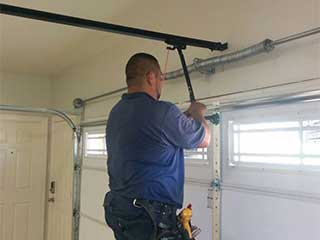 Springs are some of the most important parts of your garage door system. They are in charge of supporting the weight of your door panels while they're in operation, and therefore they are under a great deal of tension day in and day out. As a result, they can be very susceptible to wear and tear damage and are known to suffer from unexpected breakdowns when the proper maintenance routine is not applied to them on a regular basis.
Replacing Extension Springs
Replacing any kind of garage door spring is dangerous. But, there are some that pose a much greater risk than others. Extension type springs are much more dangerous to change. Since the nature of their operation involves stretching and contracting actions in order to support several hundred pounds of weight when they break they can go whipping around your garage. If any person or object gets in their path, it could get hurt or damaged. That's why replacing them, which involves carefully releasing their stored tensions, must only be performed by experienced technicians.
Galvanized Torsion Springs
These types of springs are tougher than the extension type ones, and since they are reinforced with galvanized steel they are much more corrosion resistant. These springs operate by twisting and unwinding, as opposed to stretching and contracting. That means that they are also considered the safer option, as they are less likely to go whipping around if they break. However, these components are still under a great deal of tension on a daily basis, and they too must only be handled by professional technicians.
Avoiding Direct and Collateral Damage
When a spring breaks, the potential dangers threaten more than just the surrounding people and objects. Your garage door system can also suffer. Due to the unexpected release of tension, all sorts of different parts can get damaged from the sudden jolt, including the cables, the panels - that can tilt or even collapse - the hinges, the rollers and more. The best way to prevent this is by making sure your springs undergo routine maintenance, as that will allow you to nip small issues in the bud before they become large problems. By getting your springs replaced before they break, you'll be effectively preventing the majority of potential accidents.
Contact Us Today
Whether it's emergency assistance that you need or if you simply wish to schedule a maintenance appointment, there's no one better to help you than our experts at Garage Door Repair Fallbrook. Call us today.
In addition, we offer:
Liftmaster Garage Door Maintenance
Opener Sensor Repair & Replacement
Emergency Broken Spring Replacement
Garage Door Cable & Track Repairs