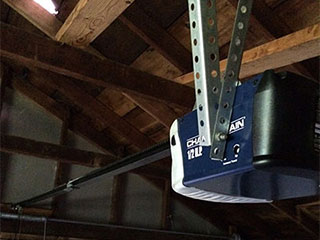 Man's genius has allowed us to enjoy the convenience of using automatic garage door openers for many decades now. By just simply pushing a single button on a clicker that can be attached to your keychain, you're able to raise a heavy three-hundred-plus-pound door with zero physical effort; and without even leaving the comfort of your car.
How Important Is Automation Really?
If you were to open the door manually, you'd have to get out of your car, exert yourself by raising the door up, then get back inside your car, drive it in or out of your garage, then get out of it again in order to close the door back down. Needless to say, manual operation is very inconvenient and time-consuming. Imagine doing this in bad weather, or when you're in a hurry. Luckily, you don't have to. That's what an opener is for.
A Few Potential Malfunctions
Due to the different moving parts involved in their operation, and the fact that they are motorized electro-mechanical units, garage door openers can suffer from several problems over time. A motor gear can wear out from excessive use, an electric wire can get fried from unexpected power surges, and even the remote control can suffer from various transmission related issues. Whatever the case may be, our experts can repair or replace the damaged component and restore your opener's operation.
Realigning Photo Eye Sensors
In order to prevent accidents, openers have special safety sensors that are in charge of detecting an obstacle in the door's path and preventing the system from closing on that object. However, these delicate components can become misaligned, which will prevent them from performing optimally. This could lead to dangerous scenarios. Luckily for you, our technicians can return these crucial sensors to their proper position, and even replace them if their lenses become scratched.
Installing New Openers
If you're looking to get a new opener unit with improved safety and security features, then our team can help you with that as well. We can help you find one that's perfect for your specific needs, and then install it to perfection.
Leave it to The Professionals
In order to avoid a lot of different accidents, it's better to leave any repair or installation of garage door openers to trained technicians. Call our experts at Garage Door Repair Fallbrook today to get the best services around.
You can also count on us for:
Garage Door Troubleshooting Services
New Opener Remotes & Clickers
Garage Door Extension Spring Installation