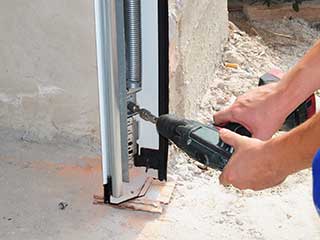 Garage doors are very valuable because they contribute greatly to keeping your car clean and safe, however, they can be damaged from time to time due to frequent use. Damages can come from minor accidents, exposure to severe environmental factors, or simply wear and tear. Regardless of the cause of the damage to your door, our professionally trained and highly experienced technicians are ready to assist you. Keep reading to learn more about the services we offer.
Springs and Safety Cables Replacement
Damaged garage door springs or cables can make using your door a wearisome process and one that is risky to your well-being. This is due to the fact that springs store energy that is required to lift the door. In addition, cables transfer the energy to the door and also serve as back up in the event that the springs fail abruptly. If your springs present signs of damage, give us a call and we will have them repaired or replaced in no time.
Openers and Receivers
Automatic doors have components such as openers and receivers that are prone to damage from prolonged use, or even bimetallic (or galvanic) corrosion. This occurs when two or more electrified metals are in contact with one another. Power surges, lightning strikes, and worn parts can also weaken their condition. Give us a call if you need repairs for your garage door opener or any of its associated parts.
Restore your door to proper working condition
If your door is acting-up and you don't know why, our specialists definitely will. We will gladly help you detect the cause of the anomaly and rectify it as well. Your door might need a few repairs or to have faulty components changed, and we'll have it back in working order ASAP.
Contact us for more about Garage Door Repairs
For further details on how our technicians can assist you with all kinds of repairs, contact an expert from Garage Door Repair Fallbrook today.
Looking for more? We also offer:
Roll up Garage Door Maintenance
Genie & Liftmaster Opener Services
Galvanized Torsion Spring Installation
New Garage Door Installation